B SCIENCE Hydrogen Peroxide Sterilization Device; All kinds of plastic, polymer, inorganic, electromechanical tools and surgical instruments, etc., which can be re-used, all kinds of heat and moisture sensitive medical materials that sterilize the new generation of ecological hydrogen peroxide plasma sterilization device.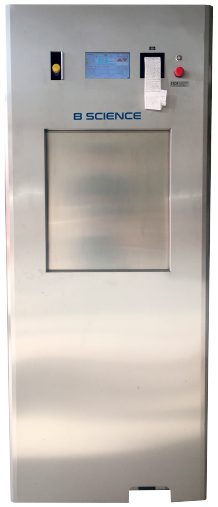 B SCIENCE (H2O2) Hydrogen Peroxide Plasma Sterilization Device is a low-temperature, non-moisture sterilizing device that does not cause toxic wastes. It is used in the sterilization of all kinds of medical materials and medical instruments such as metal and non-metal, inorganic, polymer, etc.
B SCIENCE Hydrogen Peroxide Gas Plasma Technology Benefits
User and environment friendly.
Extends the life of medical devices and instruments.
Cost effective.
Increases efficiency.
In Central Sterile Supply Department (C.S.S.D) shortens the processing time.
Increases efficiency.
It is ecological.
37 - 55 C operating range
B SCIENCE Hydrogen Peroxide Gas Plasma Device
Tyvek® package compatible.
Does not leave toxic waste.
It does not need any ventilation lines.
User and environment friendly. 10-6 (Sterility Assurance Level) Sterilization Safety Level.
It works with 60% H2O2 cartridge.
Sterilization is not addicted to the company in the Packaging Consumables.