First in the World!
4th Generation Hybrid NEW Technology =
hdrOzone
Ozone, Hydrogen Peroxide Sterilization and Plasma effect met in a device.
O3 + H2O2

+ Plasma
THE MOST EFFECTIVE AND SAFE SOLUTION IN LUMEN STERILIZATION
There are no "Diameter and Length" Limits for all types of "Lumen Material" sterilization.
(Ø 0,1 mm. ... Diameter, Min. 15 mt. Length)
Any type of medical tools, plastic, lumen products in any different length and diameter, electro mechanical products and surgical items, single and multiple channels, flexible endoscopes and similar complex long products can be safely sterilized. Long and complexed endoscope sterilization and fourth channeled/ 4,5 meter long multiple flexible lumen scopes can be sterilized.
B SCIENCE Ozone sterilization device is manufactured for the first time by -TEKNOMAR LTD.- System is working between 37 C - 45 C, utilizing double sterilant as hydrogen peroxide and ozone along with plasma.
The device uses 60% Hydrogen Peroxide (H2O2) solution and Medical Oxygen for safe and no-limit sterilization. In this way, thanks to the intelligent program design, Ozone and Hydrogen Peroxide are used together for the most effective sterilization at the lowest dose.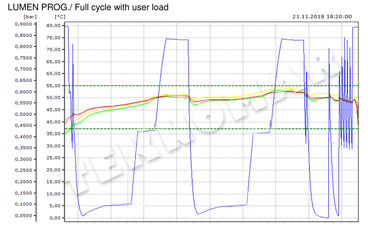 Materials that are sterilized by Hydrogen Peroxide Ozone Plasma are offered ready to use without the need for extra ventilation. There is no harmful waste, only water vapor and oxygen. For this reason, as well as safe sterilization, it offers a safe use for personnel and the environment.
Sterilization technique with the effect of heavy molecules, radicals, hydroxyls and ions, with the application of H2O2 and O3, HYDRONIUM (HO3, HO4, H2O3, H2O4, HO5, OOH, H3O ... etc)
The B SCIENCE Ozone sterilization device uses a fixed-programmed sterilization cycle, which eliminates user error in sterilization safety. There is no need to classify the materials to be sterilized and to choose the appropriate cycle and program as in old technology devices. Mixed loading can be done.
Wide colorful touch screen enables users to select sterilization program quickly and friendly.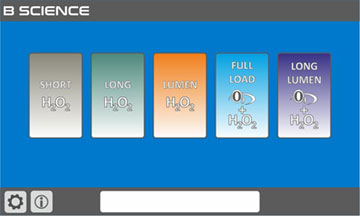 Device is compliance with ISO 14937
Packing Specifications: cellulose-free, synthetic materials such as polypropylene or tyvec; Sterilization of fabric, cellulose and liquid is not suitable for this sterilization method.
The B SCIENCE Ozone sterilization device can be used as a standalone Hydrogen Peroxide Sterilization Plasma device besides its superior properties.
Lumen Sterilization (PCD)
Hydrogen Peroxide H2O2 + O3 Ozone Plasma Sterilization Device performs sterilization of medical products and other materials with similar properties, except for conventional type disposable materials. No apparatus is needed for the sterilization of complex lumen materials.
Endoscopes
Rigid Endoscopes
Flexible Endoscopes
Laryngoscope
Arthroscopy
Laparoscopes
Trocar Cannula
Trocar Case
Resectoscope
etc..
Bronchoscopy
Ureteroscopy
hysteroscopy
cystoscopy
Koledoskop
etc..
Device & Tool
Implants
Defibrillator Pedals
ElectroKoter Products
Esophageal Dilators
Kri-Probe
Doppler
Head Pressure Transducer Cables
Endoscopic Products
etc..
Fiber Optic Cables
Laser Hand Products
Fiber Accessories
Ophthalmic Lenses
Radiation Therapy Instruments
Surgical Power Equipment
Drilling & Cutting Tools
Ultrasound Probes
Video Camera and Connection Apparatus
etc..
Ethylene Oxide, Hydrogen Peroxide and Ozone & Hydrogen Peroxide Sterilization Comparison Table

Method of Sterilization
Ethylene Oxide
Hydrogen Peroxide
Hydrogen Peroxide & Ozone
Teknomar
EO - C2H4O
H2O2
H2O2 & O3
Efficacy
Effective
Limited Efficacy
High Efficacy on Lumen Products
Cycle Time
~ 4-12 hrs
~ 70 Minutes
~ 95 minutes
Cost of Cycle
~ 12,00* €
~9,00* €
~ 10,00* €
Cartridge Storage
Challenging
Appropriate
Appropriate
Dangerous
High
Environmental Friendly
Ecologic
Preparation for Sterilization
Medium
Long
Short
Capacity
Limited Capacity
Limited Capacity
High Capacity
Material Compatibility
Mixed Material
Various Programs for Different Products
Mixed Material
Pollutant
Risky
Ecologic
Ecologic
External Connection
Needed
No Needed
Needed
Working Temperature
37-55 ℃
37-55 ℃
37-45 ℃
Sterility Assurance Level (SAL)
10-6
10-6
10-6
Maintenance
Expensive
Reasonable
Reasonable
Installation
Challenging
Easy
Easy
Working Principle
ETO Only
H2O2 Only, but Upgradable
1: H2O2
2: H2O2 & O3
3: O3
Diameter and Length
Limitless
1 mm Ø - 400 mm / 2 mm Ø 1200 mm
Ø 0,1 mm inner diameter ../.. Min. 4,5 meter Length
Residue on Product
Risky
No residue on Product
No Residue on Instruments and Long Lumen Products
Cost of Device
~ 20.000,00 €*
~ 40.000,00 €*
~ 80.000,00 €*
Overall Score
7/18
8/18
16/18
The chart is showing the comparison of sterilizers in terms of different parameters and properties.
Although, sterilization is certain on each of the methods, there are variables to consider for end users perspective.
The ranking shows that the most suitable sterilizer is Hydrogen Peroxide & Ozone Gas Plasma Sterilizer with 16/18 points. The second one is Hydrogen Peroxide Gas Plasma Sterilizer in terms of Cost and Capability-with 8/18. The third is Ethylene Oxide Gas Sterilizer with limited advantages and high considerable risks – 7/18.
---
4th Generation Hybrid Technology, Low Heat Ozone (O3) & Hydrogen Peroxide (H2O2) Gas Plasma Sterilization Device
| | | |
| --- | --- | --- |
| MODEL | B3S75 | B3S125 |
| TYPE | B SCIENCE Ozone | B SCIENCE Ozone |
| SCREEN | Touch Screen 7" | Touch Screen 7" |
| EXTERIOR DIMENSIONS (W-D-H) (mm) | 730 x 1010 x 1980 | 730 x 1010 x 1980 |
| CHAMBER INTERIOR DIMENSIONS (W-D-H) (mm) | 440 x 370 x 700 | 440 x 500 x 700 |
| CHAMBER VOLUME (Lt) | 113 | 154 |
| CHAMBER EFFECTIVE VOLUME (Lt) | 92 | 131 |
| CARTRIDGE H2O2 | 120 cc | 120 cc |
| POWER* (WATT)(Max.) | 3200 W | 3200 W |
| WORKING VOLTAGE | 230 V AC, 50/60 Hz | 230 V AC, 50/60 Hz |
| EXTERIOR CHASSIS MATERIALS | Stainless Steel 304 | Stainless Steel 304 |
| CHAMBER MATERIAL | Stainless Steel 316 | Stainless Steel 316 |
CLASS - TYPE
| | |
| --- | --- |
| Type (Block) | Block Type Hydrogen Peroxide & Ozone Low Temp Sterilizer |
| Class | CLASS II B |
| Sterilization Specification | All Microorganisms (all bacteria forms, all viruses all fungi forms) and all prions |
| Models | B3S75 – B3S125 |
OXYGEN SPECIFICATION
| | |
| --- | --- |
| External Oxygen Connection | Hospital Type Medical Oxygen ≤ 90% |
H2O2 STERILANT CHARACTERISTICS
| | |
| --- | --- |
| H2O2 Concentration | Min %45 H2O2 Concentration and above Concentration sterilization efficiency |
| H2O2 Cartridge Feature | 45% - ... - 60% H2O2 / 100 cc - 150 cc / Safety vent |
| Cartridge Cycle Quantity | 5 cycles, 7 cycles, 10 cycles, 15 cycle cartridge/cassette types are available. |
| Cartridge Shelf Life | It is 6 months from the production date at 15-25 months. |
| Waste H2O2 Drainage | Yes (1 Lt disposable) |
PACKAGING PRODUCTS
| | |
| --- | --- |
| Compatible Packaging Materials | Tyvek® Sterilization Roller, Wrap Papers, Various Surgical Container Systems |
| Unsuitable Materials | Textile, Cellulose, Liquids |
| Indicators | Chemical and Biological Indicators |
MAINTENANCE
| | |
| --- | --- |
| Vacuum Pump and Maintenance Periods | 6 Months (350 cycles) and 1 year (700 cycles) vacuum pump oil change is also performed with the device maintenance. |
| Other Technical Specifications | The device is a mobile block type and the carriage has easy transport and installation features with 4 wheels locked under the cabin. External Hospital Type Oxygen Gas (Medical Tube) and Electrical need. No need for additional waste disposal system. |