The device uses 60% Hydrogen Peroxide (H2O2) solution and Medical Oxygen for safe and no-limit sterilization. In this way, thanks to the intelligent program design, Ozone and Hydrogen Peroxide are used together for the most effective sterilization at the lowest dose.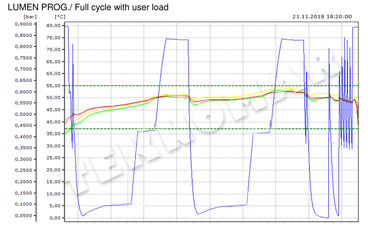 Materials that are sterilized by Hydrogen Peroxide Ozone Plasma are offered ready to use without the need for extra ventilation. There is no harmful waste, only water vapor and oxygen. For this reason, as well as safe sterilization, it offers a safe use for personnel and the environment.
Sterilization technique with the effect of heavy molecules, radicals, hydroxyls and ions, with the application of H2O2 and O3, HYDRONIUM (HO3, HO4, H2O3, H2O4, HO5, OOH, H3O ... etc)
The HRF 3000 hdrOzon sterilization device uses a fixed-programmed sterilization cycle, which eliminates user error in sterilization safety. There is no need to classify the materials to be sterilized and to choose the appropriate cycle and program as in old technology devices. Mixed loading can be done.